I have so much to blog about today! First off the
recipe contest
, I didn't win. Is it wrong to say that I was really disappointed? There were 5 finalists in each five categories. There was a winner in each category and then there was a grand prize winner. Only the grand prize winner won the $100.00. I thought that each winner got $$. I did get a very nice apron and a wooden spoon for being a finalist, and my recipes will be published in the paper. I'm happy with that.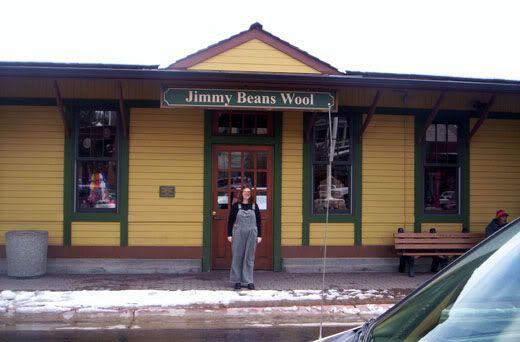 Here is a picture of
Cath
in front of
Jimmy Bean's Wool
in Truckee. It's in a very touristy location so we didn't look too silly taking a picture of it.
I am almost done with my sock as you can see but two nights ago while I was knitting, I put the sock down and went into the kitchen to get some ice cream. When I got back to the couch there was a broken needle. Greg had sat in my spot and but his elbow on the needle and cracked it. No big deal right? IT IS! This is the second time I have broken a needle on this sock. Now I have to wait until next Wednesday to get more needles. Darn it!
So I started the sweater for Ben. It's going well and I really happy that I am actually knitting a sweater. It may not be for me but I can make one for him I can make one for me! I am making it out of Encore and I really like it. Small amount of wool will keep him warm, and I can throw it in the washer and the dryer.... a must for a 2 year old boy!
I also make a dishcloth from
here
. It is the
Montana
one. Greg thinks the sun rises and sets on Montana. He is such a funny guy. When it was done he took into the bedroom and was going to HANG IT UP. I told him it's a dishcloth, and I made it so that we could use it. He laughed at me. He wasn't happy when he came home last night and saw me washing dishes with it. I am not going to hang a dishcloth up! I told him I would knit the 4 states he has lived in, Montana, Idaho, New York and California and make him a pillow. He suggested that I make all the states we both have lived in and make an afghan out of them….ummm maybe.
Look at my yarn taking a sunbath today! The Red on the left is a silk and rayon blend that I thought would become a scarf for my Mother in Law. In front of the red is a ball of fingering weight blue cotton/poly blend. I have 4 balls of it.....not sure what to do with it. Above the blue is a beautiful copper rayon yarn that I just couldn't pass up....I believe it's lace weight and was 440 yards for $5.00. The large hank in back if TwinkleToes yarn that got on eBay. I am not sure if I really like this stuff. I was thinking of doing a Calpotis out of (do I really need to link?) it. Not sure. In front of that is Lorna's Lace in Gold Hill. All that was left at my LYS was this one hank and I had to have it. I think that I will do socks wit this as the top ribbing, the heel and the toe. On the far right is more Lorna's Lace in Glenwood. These will be socks for me since I love the yarn so much!
I also burned myself again. Can you believe it? I should be banned from anything that could burn me. I was lighting a fire in the stove yesterday and the child safety wheel on the lighter got very HOT. It touched my finger and BAM, instand blister. At least this time I can knit!