My Leaf Lace Shawl is finished. I made it a bit smaller by taking out one pattern repeat. I will be making this again. I think one in a lace weight would be very nice.
Pattern: Leaf Lace Shawl by Fiber Trends
Yarn: Lornas Lace Shepard Sock in Tuscany
Needles: Addi size 5, 24 inch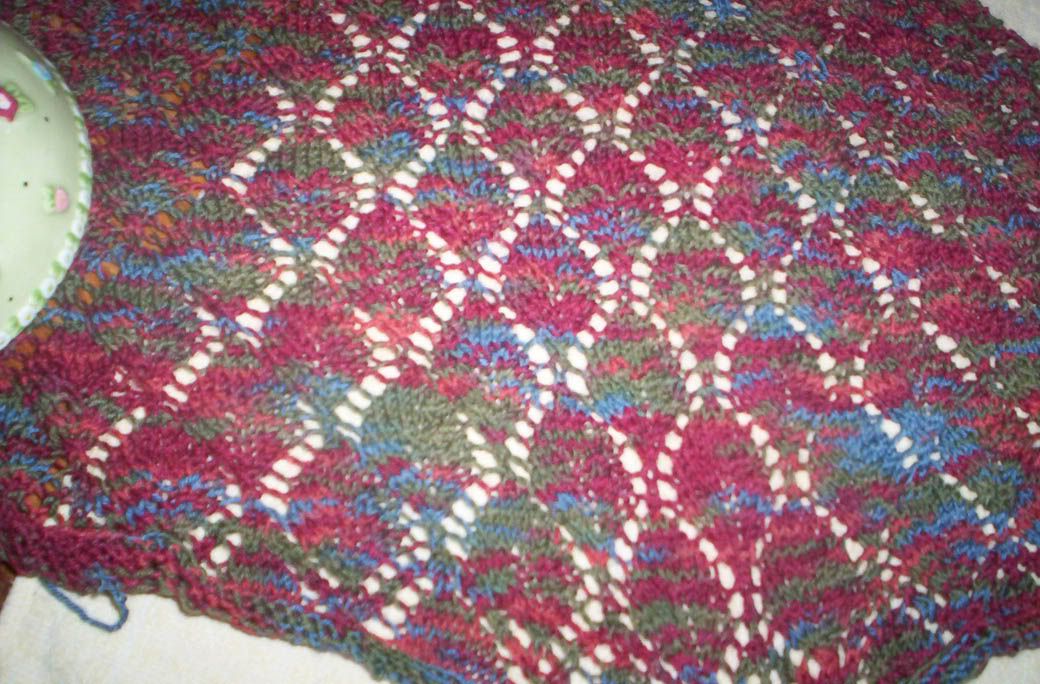 Here it is all streched out. It hasn't been blocked yet, I am having it done by the owner of
Filatis
so that it will be perfect. I really think that Greg's Grandmother will like this.
I am waiting on yarn to start 2 Liesel scarves for presents too. I picked out Aurora 8 and Blue Sky Alpaca, Silk and Alpaca both in a plum color. I ordered it from Knit Happens on Wed so it should be here next week. In the mean time I am working on the Irish Hiking Scarf. My needle exchange pal sent me Britney Cable needles and I LOVE them. I have been wanting them for so long, I just never think to buy them when I am in a yarn shop.
Speaking of my Needle Exchange Pal.....it was Cyn of I Hate Waiting. She sent me a pair of size 6 Britney Birch needles, Cable needles, a package of yarn bras, (I love the name too), and a beautiful candle. I didn't take a picture so I'll have to gather everything up and take a picture tonight. Thanks so much Cyn!
Things are starting to feel like fall and winter here. Right up to the COLD that I got. It's the strangest cold ever. In the evening I start to feel stuffy and my throat gets scratchy, I wake up at night to blow my nose....then around 9am I feel all better. So very strange. The sad part is that James got it too. I hate when babies are sick. Katie and Ben had a touch of it and are all well and of course Greg didn't get sick at all.
We are off to the Sacramento area tomorrow to head to Bishop's Pumpkin Farm. The kids should have a great time!!