Well my Secret Pal hit last week. Things have been so crazy around here that I haven't blogged about it yet. I actually screamed when I opened my box! She sent me
UTZ's
chips. Ok, you in the north east probably wonder why I would love them so much well, I can't GET them here. My favorite ones in the world are the
Grandma Utz
chips. I have already eaten half the bag and no I am not sharing. How bad is this? The kids wanted my chips and I said no…..I went to the store and bought them some Ruffles so they would leave mine alone.
She also sent me the book
Bags, a Knitters Dozen
and 3 skeins of
Noro Kureyon color number 150
. There are so many bags in that little book that I want to make! I don't know witch one to start first.
I also got the cutest little pink flip flop stitch markers. I love them!!! Thanks so much SP.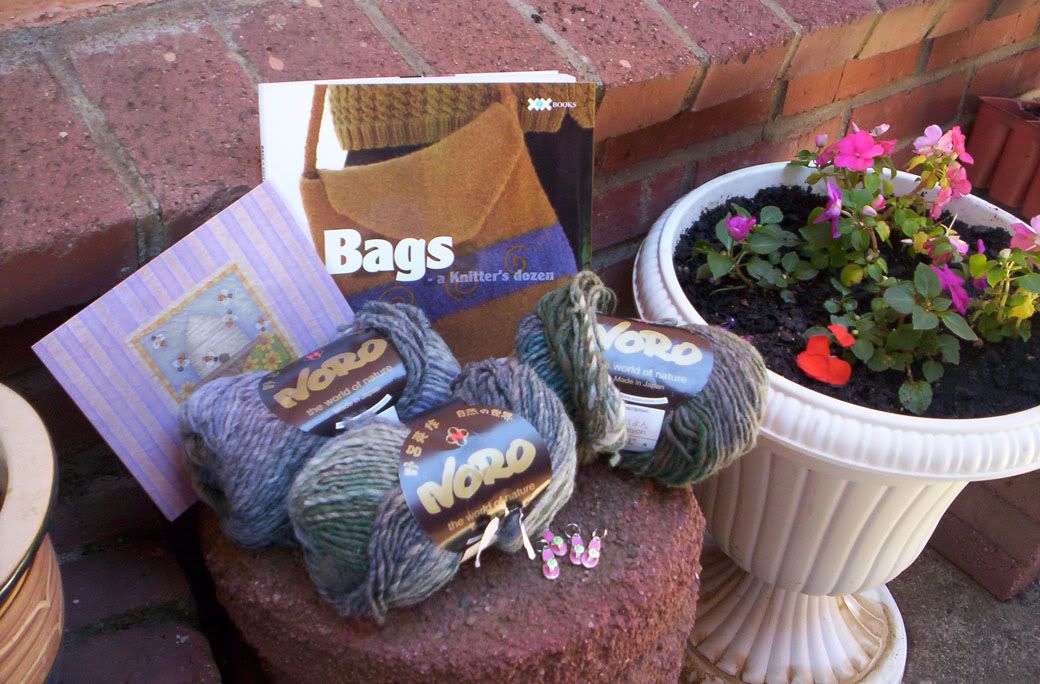 I also got in my Roving from
Mielke's Fiber Arts
to make felted soaps. Katie and I made a one last night and I think it turned out all right for our first try. I need to find some different soap to use. Maybe glycerine oval or round ones would work well. I think that when I am in toWednesday I'll have to look for some. Pictures of the soaps to come.
I have been making picture stitch markers also. My Mom saw the ones that I made Catherine and she really liked them. So I made some of the kids for her.I didn't get a picture of them while I had Dad's camera, I'll have to ask him to take a picture so I can post it. I know what I want for Christmas...a camera that has a MACRO MODE! My camera sucks.
I got in my
watchmaker tins
along with some beautiful beads that I bought on eBay. The stitch marker business is fun. I decided that I would charge 15.00 for a set of 6. I can always lower the price if needed. I think I may charge 10.00 for 6 if I put them on ebay or start an online store. I have to give my cyber friends a break! Starting Wednesday I will have them in one LYS and will be off to talk to another shop!
Lounging on the impatients, On my hand so you can see the pattern


I have been working on my sock pal socks most of the time. It's so hot here and with no AC knitting isn't the first thing that I want to do. But I am turning the heel of the first sock so I am way ahead of the pace that I set for myself.
One of my good friends just found out that she is pregnant with her second child. I am so excited for her and her husband. I didn't know how to knit when she had her first, and this is the first baby expected since I started knitting! I think I will make her a baby blanket, maybe the
pinwheel blanket
, and some hats and booties. WHOOPPEE I love baby knitting.
Now what yarn should I use.....