We are home from the hospital after 8 long days. Mister James is doing much better, in fact today he acts like he is no longer sick at all. I wouldn't wish RSV on my worst enemy! He was such a great little patient. The nurses all told me that he was the happiest sick baby that they had ever seen. I was told that there were cases of RSV this year where the babies were so listless and lethargic, James was never like that. He needed oxygen and nebulizer treatments, and we have an inhaler for him here at home.


I am so blessed that I have such a wonderful husband. He watched Katie and Ben the whole week. I couldn't stand the thought of leaving James' side, so they would make the 30 min trip every day to come and see me. Ben, who is 2, had a hard time. There were a few days that he didn't even want me to look at him. I think he was mad at me :-( But all is back to normal now that James and I are home.

The only good thing about the hospital was I could knit. I really only knit the first few days there. I was so worried and I needed something to do. After about the 4th day, I was getting a little stir crazy, along with lonely...and I didn't feel like doing anything. Thank goodness for the nurses who didn't mind that I talked their ear off. At one point there were only 2 patients in the hospital, so they had a lot of down time!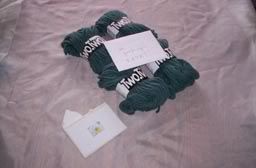 I got some great surprises when I got home! The first was a RAOK from
Grenadine Girl
It's a really cute felting kit for a little pouch. The next was a very nice card from
Caitlyn
wishing all of us better. And last but not least was a 15.00 gift certificate to
Amazon
from
Romy
. Plus all the comments and emails really made my heart warm. It's nice to know so many good thoughts are coming James' way. Also a big thank you to
Catherine
for helping me make my blog look so cute! I love the yellow and pink, my two favorite colors!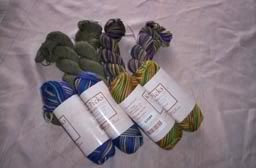 I also got my
KnitPicks
order, and my
Elann
order. I am just too exhausted to knit anything with it! I got 4 skeins of knitpicks
Sock Garden
, and 2 of the
Sock Landscapes
. Plus I got 2 skeins of the
Alpaca Cloud
for a scarf for my sister.
The Elann order was their
baby cashmere
for a shawl that I might get to one
of these years!