If you hate novelty yarns....STOP. Look away now. Read no further.
.
.
.
.
.
.




I made this scarf for my landlord's granddaughter. I can tell you that I HATE working with this yarn. It's Lion Brand Fun Fur. I cast on 13 stitches and just knit in a size 11 needle. When I picked it up this afternoon, I had 16 stitches. How the hell did I do that? I did a k2tog and ended it with 14 stitches. Oh well, you can't tell...... I finished it in about 2 hours, I hope she will like it. She had one and someone took it from her in a restaurant. She is only 6 and was devastated, poor thing. I have to send it out tomorrow, I am afraid it will be too warm soon to go out with it on!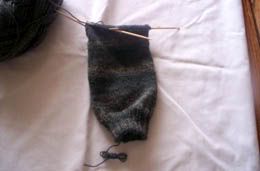 My first sock is coming along. They are for my Father in law. I wanted them done for his birthday...think I can get them both done in 3 days? I don't think so. They are coming for a visit next month from Montana. I'll have them done by then....or I hope so.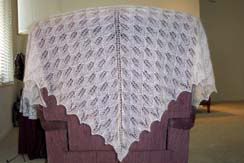 No, I didn't knit this. My wonderful Mother did. It's Kiri designed by Polly. She used 3 balls of Rowan Kid Silk Haze. It's so beautiful.....one day maybe I will be able to knit as beautifuly as she does.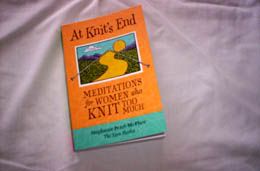 Last but not least, I got Stephanie's book in the mail yesterday. It's is so cute! Is it bad that I have read the whole thing already? I think I may order another copy to give to my Mom. It's the perfect gift!