I am a sock knitting woman! I finished the first sock for my Father in law a week ago. I didn't really want to start the second one right away so I started one out of
Pansy, Sock Garden
from Knitpicks. I should be able to finish it tonight if the kiddo's cooperate.
Father in laws sock out of trekking, Pansy sock
I also joined
. I got my sock pal but SHHHH I can't tell you who she is. I will say that she doesn't have a blog so I hope she likes what I make. I ordered some
Regia Silk
sock yarn in these two colors.


I might make my sock pal a pair out of one color and then gift the other two to my Mom. Hummmmmm the knitter that I am spoiling in SP5 is a big sock knitter so maybe if I really like the yarn I'll order her some too.
I decided to make a few stitch markers. So far this is what I have done. I really like them and think I make make a few more tonight. Now I am hoping that
Cara
does another Bead It swap.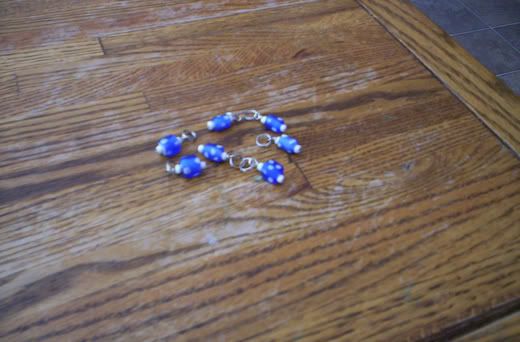 I keep finding lots of patterns that I love and want to make. I think that's the hardest thing about being a knitter. Too may patterns, not enough time. I have been finding tank top patterns that I want to make but the weird thing is....I don't wear tank tops! Strange huh?