The days are turning colder, and the nights are just FREEZING. No really, below 32...it's freezing. SO of course I am getting excited because that means it's sweater weather.

It's not that I don't like summer, I just love Fall and Winter so much. Greg and I have been talking about where we want to move to next, and I really don't want to move away from having 4 seasons! We had been talking about moving back up to the north coast of Ca but up there there is only one season...GREY. I would miss the snow and fall colors. But up there I would get to wear sweaters even in the summer :-)

Who knows where we will go. If I had my way we would be back east in a heart beat. Greg wants to go too, I just can't leave my parents. If they agreed to come with us then we would go. It would be too hard to be on the east coast while they were still on the west. I need them and I think they need the Grandkids!

So anyway, I've decided that I need to knit myself a sweater. What sweater I have no idea but I really want to knit myself something. Here are the three that I was thinking of........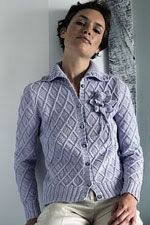 Lucille, Hattie, Peggy
All of these are out of the Jaeger JB25 book. They are made out of cotton but I would use some sort of wool. I am leaning toward Peggy.....what do you think?
I've been working away on my Lace Leaf Shawl, but really do you want a picture? We all know what a lace shawl looks like unblocked......a lump of yarn!
Greg's on vacation this week so I don't see a lot of knitting taking place. Just a lot of wood chopping, house painting, and maybe a yard sale. But that's good, I need yarn money for my sweater!
So I'll leave you with a picture of a very cute 7 month old...................