It's been too long. I have to get into a routine with posting. With my first born now in preschool, we have had to adjust to a new routine. Getting her ready in the mornings is still a nightmare but getting better as each school day goes by.
I have so much to mention in this post. First off is my wonderful Secret Pal 6 sent me a gift certificate to
Knit Happens
tonight. Just today I told myself that I would buy no more yarn until the next year. The end of the year is always a little tight around here at the KnitWit's house....and I have enough yarn to hold me over. So now I get to get yarn and not feel like I am breaking my promise! WhooHoo for my SP.
I also have some ROAK thank you's as well. I got a beautiful origami crane from Julie at
Stoneview
. Greg grabbed it and it now resides in the office of a
Safeway
....because he really needs good luck to run a grocery store (yes, I am rolling my eyes). I also want to thank Jennifer of
Shamrock Crafts
for the beautiful hand made card that she sent me. It really made my day. And last but not least, Juli of
Juli's Jots
sent me a really sweet e-card. Thanks Juli!
And before I get to what I have been doing, please stop by
Snooze's
blog and check out her de-stashing sale. It's not under the best circumstances but you might be able to help her out and get something great out of it.
Now me... I have a FO!!!!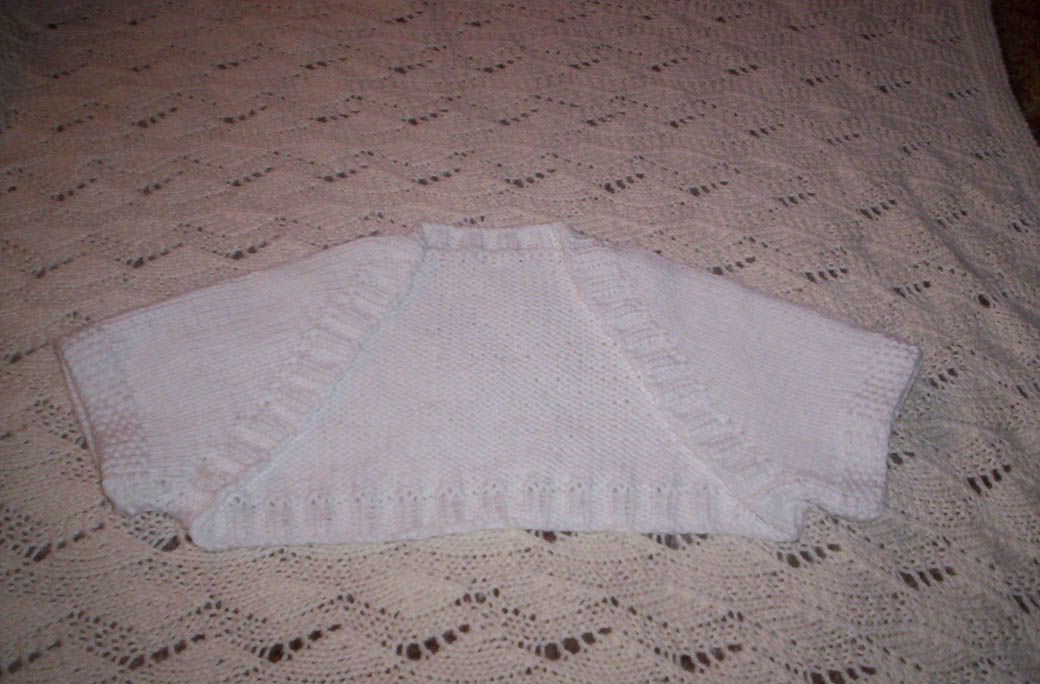 It's a OSW that I made out of Cotton Ease. It's a little tight under the arms so I will ship this off to my niece, Aimee in Florida. She'll get more use out of it than me since it's wool sweater season here!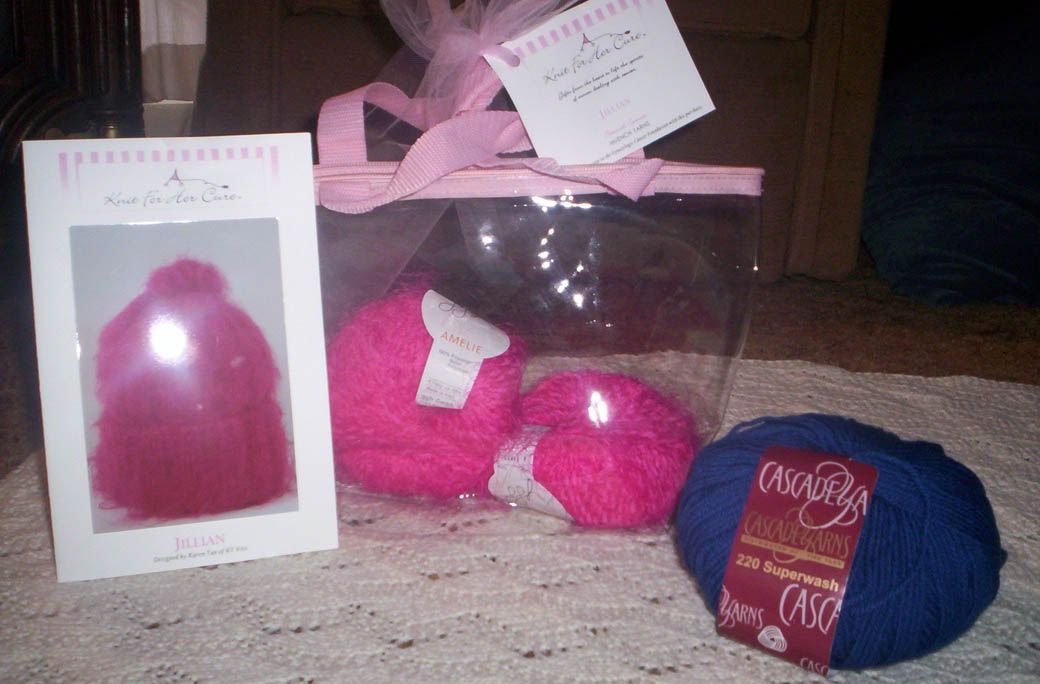 I bought this hat kit at
Knit for Her Cure
that was held on Saturday at
Filati's
in Rocklin. It was a lot of fun to go see the lace and felting demonstrations and see all the fun kits. 10% of the kit price will be donated to cancer research and 100% of the money that the yarn company makes off of these kits will go to cancer research as well. For such a good cause how could I resist this furry HOT PINK hat??? The blue cascade is for mittens for my two sons....can you believe that just a little jaunt up the hill it is supposed to SNOW this weekend!!!!!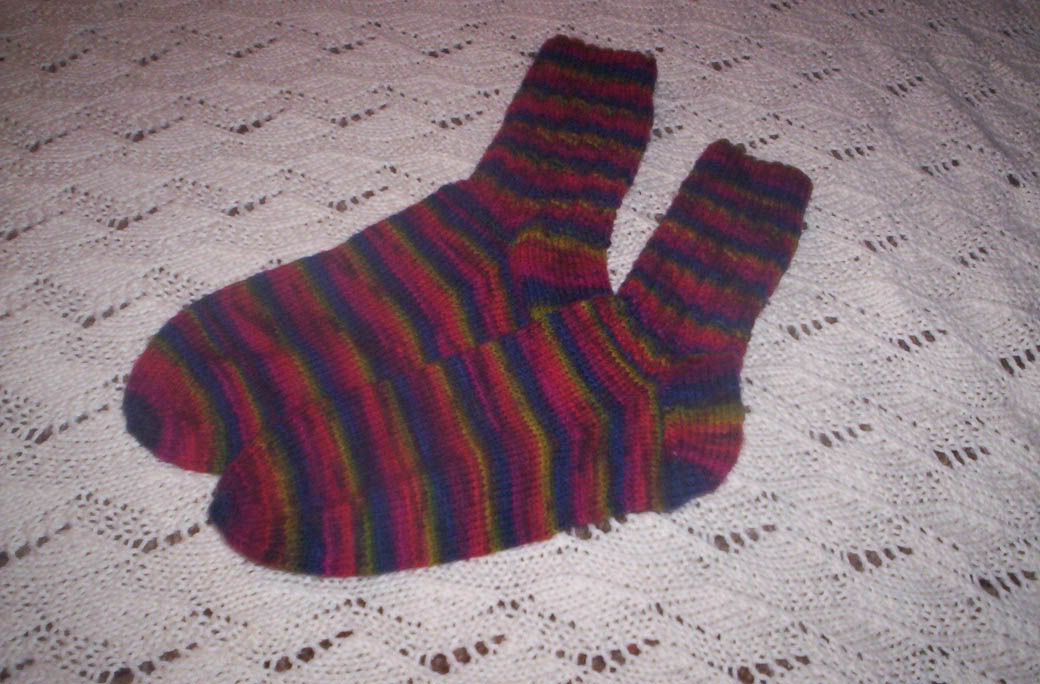 These are my Beautiful Sockapalooza socks that were knit for me by
Tine.
Funny thing is that during SP5 I was spoiling
Jaq
and she was spoiling Tine! Small world huh!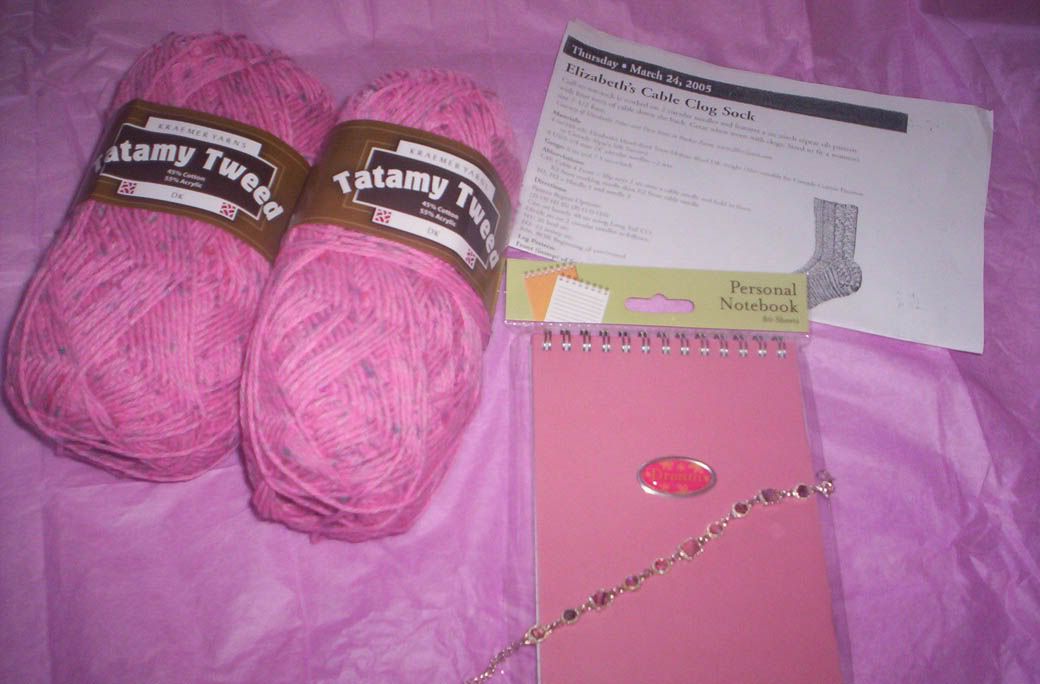 And the above is my very pink package from my SP5,
YarnGirl
. She sent me two skeins of a beautiful pink cotton wool blend, a sock pattern, a pink notebook and a pink bracelet. I had to wrestle my daughter for it but I won :-) I am in fact wearing it right now. Go check out her blog. Her lace is amazing! Thanks Chris.
Well, I am off to try and finish my Lace Leaf Shawl for Greg's Grandma. I think we are going to pop in
National Treasure
tonight. Why, I don't know. To me it doesn't look very good. Not to mention that I HATE Nicholas Cage.