Last month I had my one year blogaversary! I didn't even know that it was coming up. I started the blog on Feb 23rd last year, when James was only 2 weeks old. What was I thinking?
He slept much more then, and I had more time for knitting and blogging. Now I try and find time each day, but it doesn't always work.
So in honor of my one year of blogging I am going to have a little contest. The winner will get a spring goody box. Once I know the winner, I will put together a box, that way I can customize it for them.
Here is the question:
How many inches of snow did we get over the past 2 days?
And as a tie breaker: How many times have I shoveled the driveway in the past 2 days?
Please
email
your answers to: knitwitmomma AT earthlink DOT net
I'll give ya'll until next Saturday to guess.
And before you ask, no I will NOT tell you exactly where I live (that's the fun of it) just that I live on the west slope of the Sierra's :-) (no fair guessing
Catherine
)
(as I was typing this I heard a loud noise outside...like a lawn mower. The man from two houses down was snowblowing my driveway.... I LOVE this neighborhood, people are very friendly!)
On To Knitting
I started the Embossed Leaves socks in the winter IK. I have to say that I am loving this pattern. It seems to be going really fast. This picture was taken yesterday and I am one and a half repeats further. The white specks.....snow of course.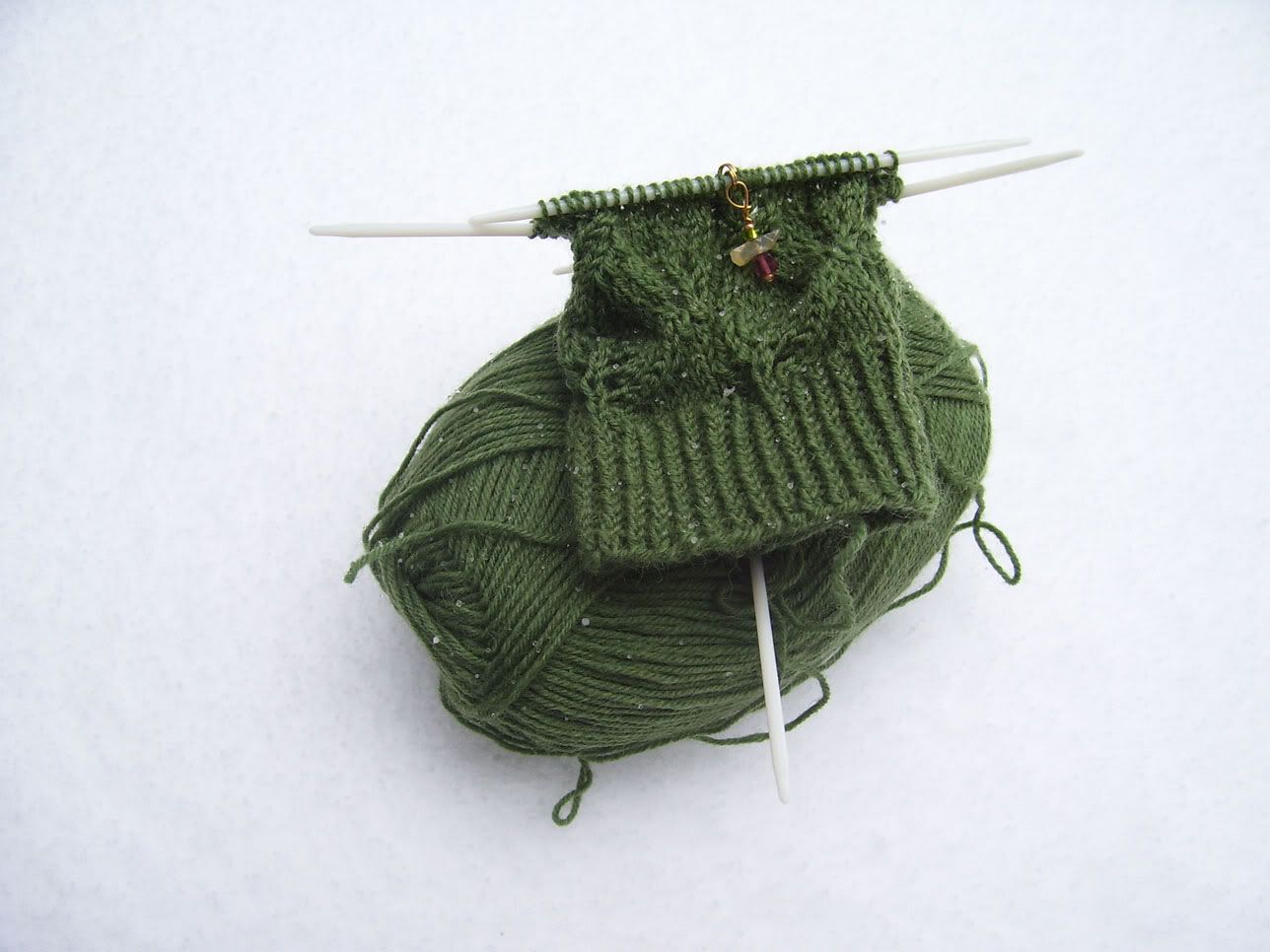 These socks will be for me. I have not yet made socks that I have kept, and I only have 2 pairs of handmade wool ones from my Mom. I need more snow shoveling socks! I am using KnitPicks Essentials sock yarn. I will not be knitting with it again. I am missing the feel of Lorna's Lace, so I used my
Jimmy Beans
credit and ordered some.
I have been itching to make something lacy. I have plenty of lace weight yarn in my stash, I just need a pattern. I have been eyeing a two
Fiddlesticks
pattern's
, I have a beautiful pink lace yarn that Catherine gave me as a Chirstmas present that would be a perfect scarf to go with my black wool coat!
I am also planning on knitting a square for the
Comforting Jef blanket
.
Christine, of Knitting on Trial's
, brother is battling a recurring brain tumor and has asked for blue 8X8 squares. She will be accepting them until the 24th, and the will give her brother the blanket at the end of the month. I too have a brother named Jeff who, thank God, is happy and healthy. So it will be off to the the yarn store tomorrow to find some beautiful Blue for Jef.
That is really all I have been knitting. The crud is going around and all 3 children were sick. Of course I then got it and it's even been passed on to my Dad. Greg never got it. Figures huh?
Tomorrow I will be joining in on
Knitting Interrupted's
Back Yard Field Trip
! Check it out, looks like it will be so fun. Although I won't have too many pictures, the snows too deep to be in the yard taking pictures! (hint hint)