I am on my way to finishing my sock pal socks. I am on the gusset shaping of the second one. I really liked this pattern and will have to make a pair for me. I can't wait to send these off to my pal. I really hope she likes them.
Now here is my yarn haul from last week. There is some of Knit Picks new merino lace weight yarns ( the purple solid and variegated, and the green) and some yarn that I picked up at
Filati's
yarn sale. One ball of
Rowan Kid Silk Haze
to make some Airy scarves, some beautiful Regia stretch, and some Sidar Snuggly for a cardigan for James. There was more but I am sending it off to my SP.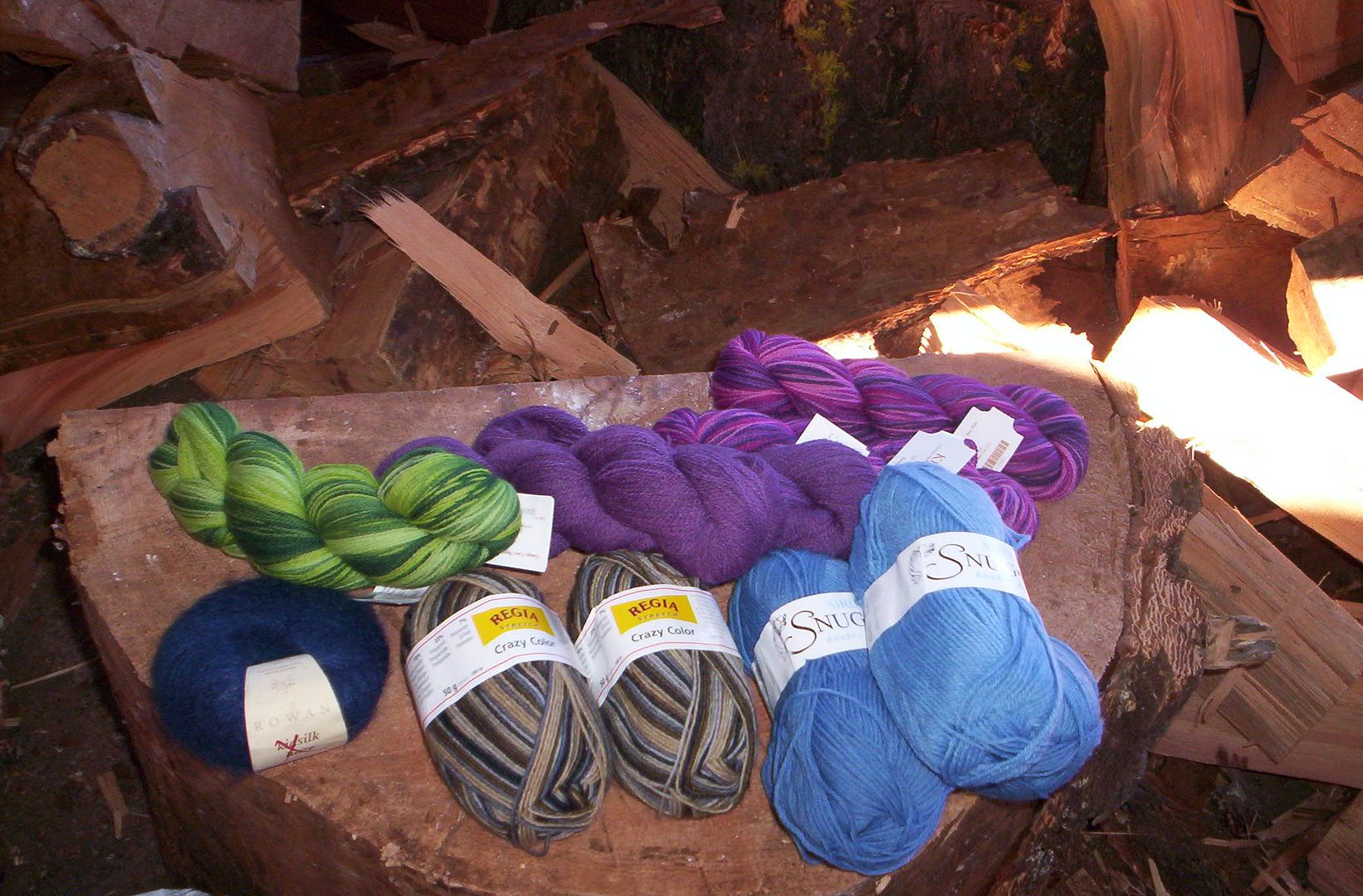 I decided to make the
Lace Leaf Shawl
for my DH's Grandmother. Claire is 96 and doing very well. She really is a wonderful woman and I love to go visit. Not that we can do that much, she is in Montana, but when we do I really enjoy her stories. I think that she will really like the shawl. I had planned on making out of
Lorna's Laces
but now I am thinking alpaca would be better. Montana is COLD in the winter!
Now a story to make you laugh..
The night before last I heard Katie crying in her bed. I jumped up and was going to see what the matter was. I guess I was in a hurry....I didn't want her to wake her brothers up....well I tripped over the
Fisher Price Barn
that was at the end of the bed. I tore a chunk of skin off the bottom of my foot and...ready....GOT A RUG BURN ON MY FACE. Can you believe that? A rug burn? You can not imagine the smart ass comments that Greg and I have gotten about it. Now that it has darkened...I look really silly. It's raw between my nose and my upper lip. Not to mention that I am hobbling along because of my foot.
Ok so it's not funny but a RUNG BURN ON THE FACE.....yeah, go ahead and laugh. If it wasn't me I would laugh!
And yes, my yarn is lounging on all the wood that Greg is splitting for winter.....we think we will need 5 cords to get us through....so far we have about 3.