My poor little blog is being neglected. Seems like there is a lot of that going around blog land. Personally, I think that the warm weather may have something to do with it. That's part of it for me.
Now that the snow is finally gone, and the sun is finally shining,we have been spending a lot of time outside. I love it, spend the afternoon outside and the kids drop right at 7 pm.
I have been knitting. Not as much, but I have been really busy. I am one of the hostesses for this round of
Secret Pal
. Entering info into the database, and completing the
participants page
took a lot of my knitting time away. Now that matches will be going out soon I hope to pick up the needles again.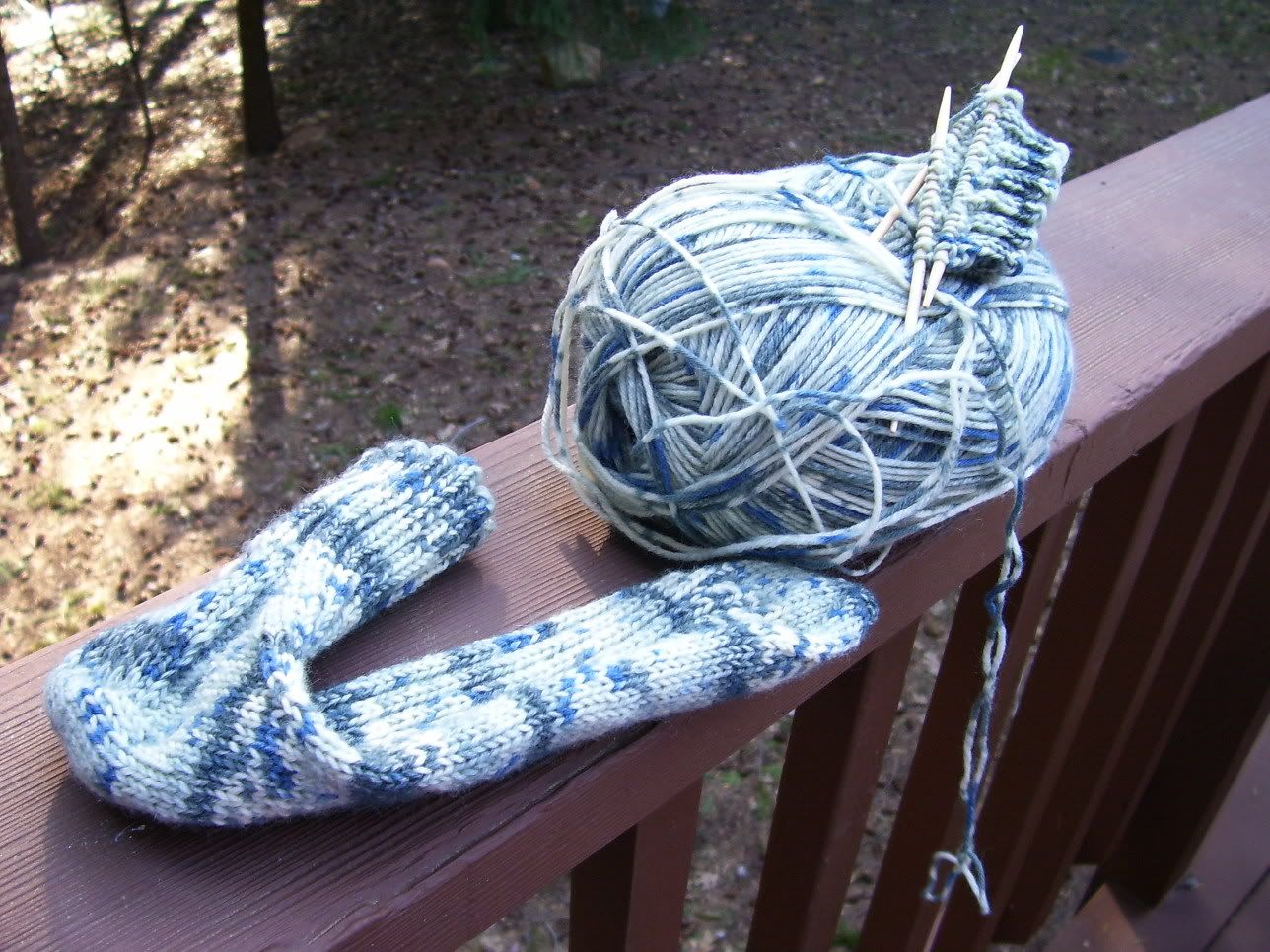 I have had a request from my friend in Iraq. He wanted me to make him some slipper socks. It may be 10,000 degrees over there but he informs me that the "tin can" that they sleep in gets really cold. So wool socks out of Regia 6 ply are on the needles. The first one jumped off the needles, well as fast as a men's size 10 can get done.... the second heel flap is being knitted right now. I am trying to get them done before I leave for Florida on the 10th.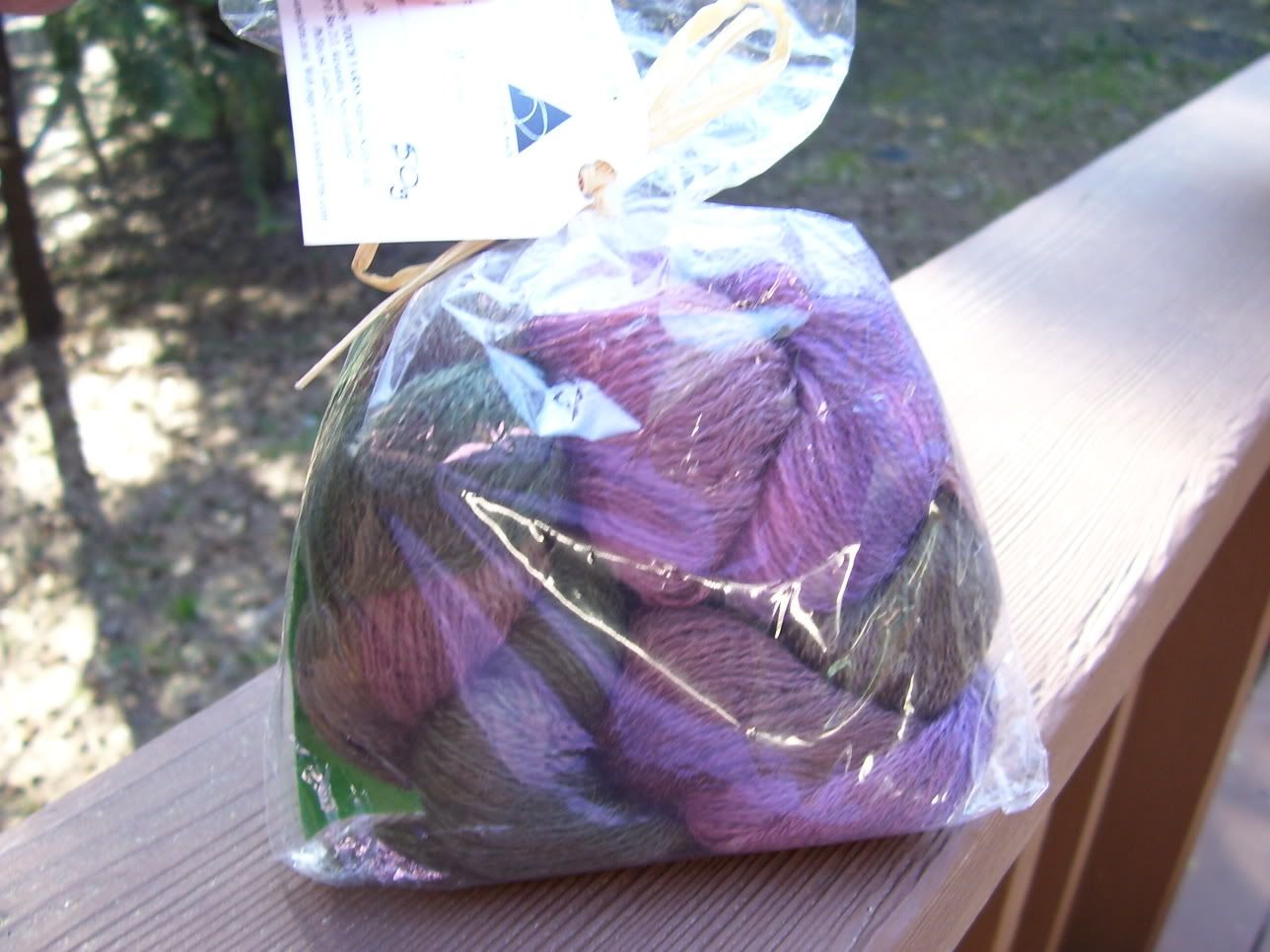 I won a contest over at Mary's
Wool Palace
. She sent me this beautiful yarn and some chocolate. The chocolate is gone. I can't say what it tasted like, but you could ask my husband. The man is a candy addict. I think that this will be a beautiful lacy scarf. Right now it is getting to know it's new siblings in my stash.
I also got a package from Maureen at
5 and a Beagle
. She was so sweet to think of me and my cow obsession. I didn't take a picture of the cute cow kitchen towel or the potholder. Both are in the laundry.... but look at these.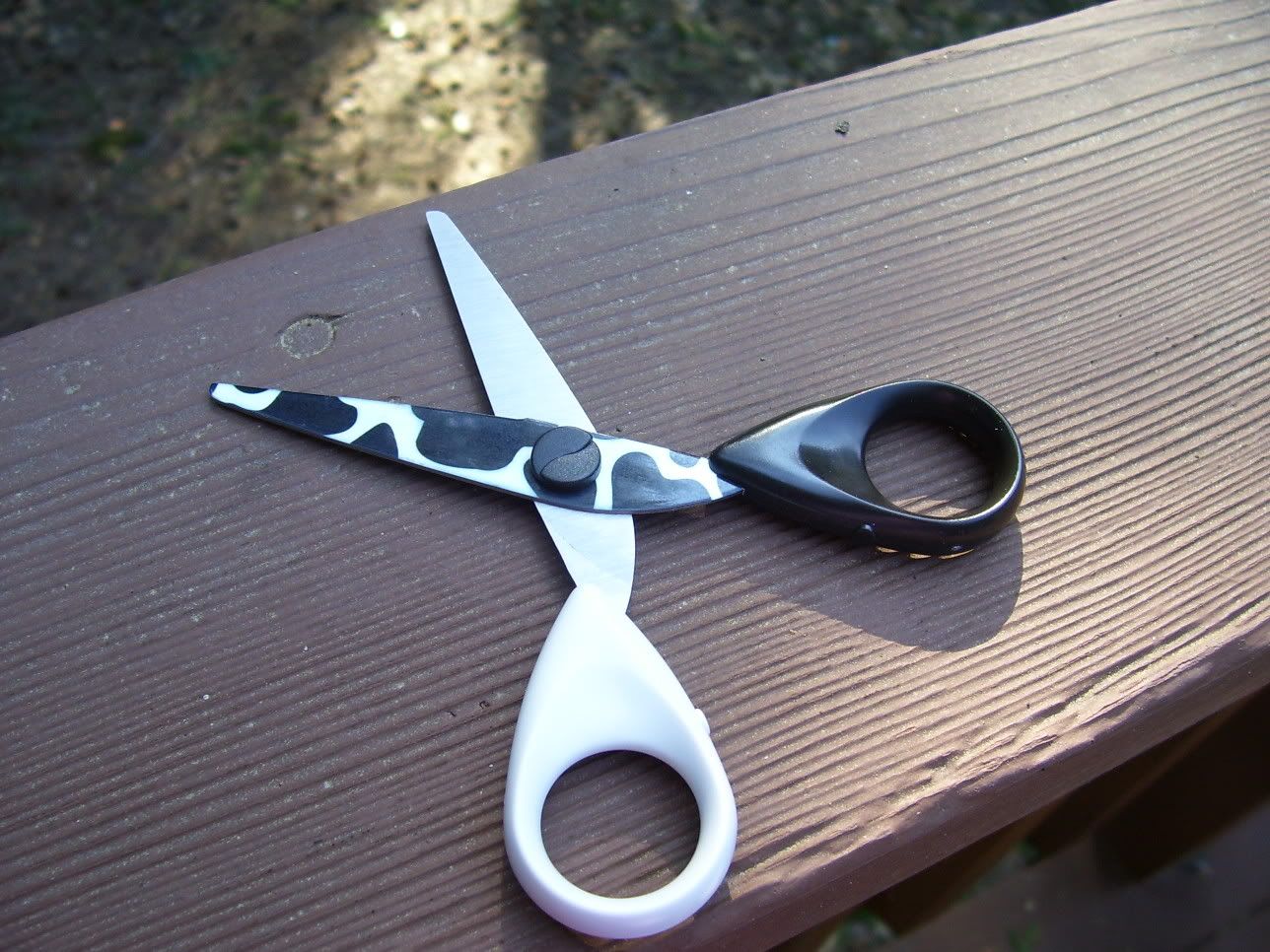 Can you stand it? Cow sissors. I love them. They were hidden in my knitting bag immediately. Katie was eyeing them, out of site out of mind right?
And now for a baby story. I can laugh now but at the time I was a nervous, crying, shaking mess.
All the kids were in Katie's room playing the other night. First let me tell you that she has a night light on top of her dresser. It's one of those plug in candles that you get at Christmas to put in your windows. Well, Ben somehow knocked it off the chest of drawers, it hit wall, bulb broke, and fell behind of the dresser. Greg and I were not aware of any of this.
Greg and I are cleaning up after dinner and we hear James start to cry. This was no "he took a toy" cry. He was screaming! Katie comes running yelling "FIRE, FIRE IN MY ROOM" We take off down the hall.... James has the broken nightlight in his hands. Greg picks him up. I rip the light out of the wall and tell greg to check his hands. I thought he may have gotten shocked since the 'guts' of the bulb were still there. We couldn't find a burn or any cuts. I looked down at the nightlight and it was wet.
What? OH MY GOODNESS. He put it IN HIS MOUTH. He had two burns on his tongue in the exact shape of the filaments. I of course freaked out. By that time James was back to being a happy baby. Drinking milk and eating a cracker. I thought he may have a hard time eating until his tongue healed....but he's been fine. The next day you could barely see any marks. I was ready to call 911 after it happened. Good thing Greg was around. See I am the uptight, freak out at everything one and Greg is the laid back, never gets excited one. We balance each other out.
SO the fire was sparks in his mouth. My baby was on fire. This little incident has earned James a new nickname. Sparky, the electric baby. Or just Sparky for short.
Do boys ever stop getting into things?